Нашли дешевле?
+7 (812) 309 34 73. Договоримся!
Общая информация
(WS-C3650-24PD-S)
Cisco catalyst C3650-24PD-S is the next generation standalone with stack option switch. IP base feature set with 24 Gigabit Ethernet POE+ ports and 2 x 1G SFP and 2 x 10G SFP+ uplink ports, WS-C3650-24PD-S is designed for access layerdistribution layer for enterprise. 3650 series in IP base feature set combines both wired and wireless capacity on a single platform and supports up to 25 APs and 1000 clients for wireless connection (AP license purchase separately). Cisco Stackwise-160 simplifies network management and creates premium stacking architecture by supporting active-to-standby switchover without service interruption. Flexible Netflow monitors the network traffic flows for both wired and wireless users to help identify the threat of network.
Быстрые спецификацииs
Figure 1 shows the front view of WS-C3650-24PD-S.

Таблица 1 показывает Быстрые спецификацииs of the WS-C3650-24PD-S.
Product Code

WS-C3650-24PD-S

Ports

24 x 10/100/1000 (POE+) 

Unlink Interfaces

2 x 10G SFP+ & 2 x 1G SFP

Network management Interface

- Ethernet management port: RJ-45 connectors, 4-pair Cat-5 UTP cabling
- Management console port: RJ-45-to-DB9 cable for PC connections

Available PoE Power

390W

Switching Capacity

88Gbps

Maximum stacking number

9

Stack Bandwidth

160Gbps

Forwarding Performance

68.45Mpps

RAM

4 G 

Number of AP per switch/stack

25

Number of wireless clients per switch/stack

1000

Manufacturer Warranty

1 year warranty
Детали продукта
Figure 2 shows the ports and LEDs on the front panel of WS-C3650-24PD-S.

Note:
? Mode button   ? Status LEDs   ? USB mini-Type B (console) port   ? USB Type A storage port   ? 10/100/1000 PoE+ Ethernet ports
? Uplink ports
На рисунке 3 показана задняя панель the Cisco C3650-24PD-S switch.

Note:
? Ground connector   ? CONSOLE (RJ-45 console port)   ? MGMT (RJ-45 10/100/1000 management port)   ? Fan module
? Power supply modules
Figure 4 shows the StackWise-160 Kit.
The Cisco Catalyst 3650 supports an optional stacking module that is based on the Cisco StackWise-160 technology which allows stacking up to 9 switches.

Figure 5 shows the unboxing view of WS-C3650-24PD-S.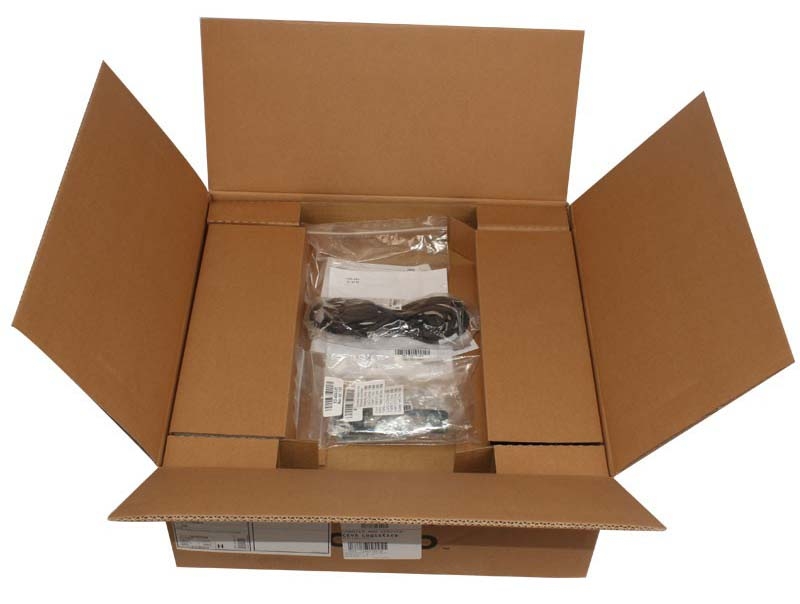 Аксессуары
Table 2 shows some recommended accessories of WS-C3650-24PD-S.
| | |
| --- | --- |
| Models | Description |
| C3650-STACK-KIT | Cisco Catalyst 3650 Stack Module Spare |
| L-C3650-24-S-E= | C3650-24 IP Base to IP Services Electronic RTU License |
| PWR-C2-1025WAC= | 1025W AC Config 2 Secondary Power Supply |
| PWR-C2-640WDC= | 640W DC Config 2 Secondary Power Supply |
| CAB-CONSOLE-RJ45 | Console Cable 6ft with RJ45 and DB9F |
| CAB-CONSOLE-USB | Console Cable 6 ft with USB Type A and mini-B |
Datasheet Download
Cisco Switch Catalyst 3650 Series Datasheet.pdf
Что бы получить больше информации
У вас есть какие-либо вопросы о WS-C3650-24PD-S?
Свяжитесь с нами через ЧАТ или e-mail: info@itg-spb.ru.
Specification
features
RPS Support Jumbo Frames VLANS Voice Vlan VTPv2 CDPv2 LLDP 802.3ad LACP and PAgP PVST/PVST+ 802.1W/802.1S Port Fast/Uplink Fast Dynamic Trunking Protocol (DTP) port CoS Trust and Override Trusted Boundary ACL Classification ingress Policing Auto QoS Per VLAN policies 802.1p queues Scheduling Priority Queuing Configure CoS Priority Queues Configure CoS Priority Queues Configure Queue Weights Configure Buffers and Thresholds Class & Policy Maps Modify CoS and DSCP Mapping Weighted Tail Drop IGMPv1,v2,v3 and MLDv1, v2 DHCP server DSCP transparency HSRP, VRRP RIPv1, v2 EIGRP stub, PIM stub, OSPF stub IPV6 management
System software
IOS IP Base (Upgradable)
EnergyWise license
ENERGY-MGMT, ENERGY-MGT-100-K9
Software license
C3650-24-S-E: IP Base to IP Services RTU paper license
L-C3650-24-S-E: IP Base to IP Services RTU electronic license
Access Point Licenses
L-LIC-CT3650-UPG: Primary upgrade license SKU for Cisco 3650 wireless controller (e-delivery)
L-LIC-CTIOS-1A: 1 access point adder license for Cisco IOS Software based wireless controller (e-delivery)
L-LIC-CTIOS-1A: 1 access point adder license for Cisco IOS Software based wireless controller (e-delivery)
LIC-CTIOS-1A: 1 access point adder license for the Cisco IOS Software based wireless controller (paper license)
Advanced Network security
Port security DHCP snooping Dynamic ARP inspection (DAI) IP source guard The Unicast Reverse Path Forwarding (uRPF)
Bidirectional data support on a SPAN User authentication
Private VLAN Router and VLAN ACLs complete identity and security
Multidomain authentication MAC address notification
IGMP filtering Cisco security VLAN ACL
Secure Shell (SSH) Protocol, Kerberos, and Simple Network Management Protocol Version 3 (SNMPv3)
Port-based ACLs TrustSec SXP IEEE 802.1ae
TACACS+ and RADIUS authentication Cisco standard and extended IP security router ACLs
Bridge protocol data unit (BPDU) Guard
Spanning Tree Root Guard (STRG) Wireless end-to-end security
Management
BRIDGE-MIB CISCO-AUTH-FRAMEWORK-MIB
CISCO-BGP4-MIB, BGP4-MIB CISCO-BRIDGE-EXT-MIB
CISCO-BULK-FILE-MIB CISCO-CABLE-DIAG-MIB
CISCO-CALLHOME-MIB CISCO-CEF-MIB
CISCO-CIRCUIT-INTERFACE-MIB
CISCO-ENTITY-VENDORTYPE-OID-MIB
CISCO-CONTEXT-MAPPING-MIB
CISCO-DEVICE-LOCATION-MIB CISCO-DHCP-SNOOPING-MIB
CISCO-EIGRP-MIB
CISCO-EMBEDDED-EVENT-MGR-MIB
CISCO-ENTITY-FRU-CONTROL-MIB CISCO-ENTITY-SENSOR-MIB
ENTITY-MIB CISCO-ERR-DISABLE-MIB
CISCO-CONFIG-COPY-MIB CISCO-FLOW-MONITOR-MIB
CISCO-FTP-CLIENT-MIB CISCO-HSRP-EXT-MIB
CISCO-HSRP-MIB CISCO-IETF-ISIS-MIB
CISCO-IF-EXTENSION-MIB CISCO-IGMP-FILTER-MIB
CISCO-CONFIG-MAN-MIB CISCO-IP-CBR-METRICS-MIB
CISCO-IPMROUTE-MIB CISCO-IP-STAT-MIB
CISCO-IP-URPF-MIB CISCO-L2L3-INTERFACE-CONFIG-MIB
CISCO-LAG-MIB CISCO-LICENSE-MGMT-MIB
CISCO-MAC-AUTH-BYPASS-MIB CISCO-MAC-NOTIFICATION-MIB
CISCO-MDI-METRICS-MIB CISCO-FLASH-MIB CISCO-OSPF-MIB
CISCO-OSPF-TRAP-MIB CISCO-PAE-MIB CISCO-PAGP-MIB
CISCO-PIM-MIB CISCO-PING-MIB CISCO-PORT-QOS-MIB
CISCO-PORT-SECURITY-MIB CISCO-PORT-STORM-CONTROL-MIB
CISCO-POWER-ETHERNET-EXT-MIB CISCO-PRIVATE-VLAN-MIB
CISCO-PROCESS-MIB CISCO-PRODUCTS-MIB CISCO-RF-MIB
CISCO-RTP-METRICS-MIB CISCO-RTTMON-MIB
CISCO-SMART-INSTALL-MIB
CISCO-SNMP-TARGET-EXT-MIB CISCO-STACKMAKER-MIB
CISCO-MEMORY-POOL-MIB CISCO-STP-EXTENSIONS-MIB
CISCO-SYSLOG-MIB CISCO-TCP-MIB CISCO-UDLDP-MIB
CISCO-VLAN-IFTABLE-RELATIONSHIP-MIB CISCO-VLAN-MEMBERSHIP-MIB CISCO-VTP-MIB EtherLike-MIB
HC-RMON-MIB IEEE8021-PAE-MIB IEEE8023-LAG-MIB
IF-MIB IGMP-MIB IGMP-STD-MIB IP-FORWARD-MIB
IP-MIB IPMROUTE-STD-MIB LLDP-EXT-MED-MIB
LLDP-MIB NOTIFICATION-LOG-MIB
OLD-CISCO-MEMORY-MIB CISCO-CDP-MIB
POWER-ETHERNET-MIB RMON2-MIB
RMON-MIB SNMP-COMMUNITY-MIB SNMP-FRAMEWORK-MIB
SNMP-MPD-MIB SNMP-NOTIFICATION-MIB SNMP-PROXY-MIB
SNMP-TARGET-MIB SNMP-USM-MIB SNMPv2-MIB
SNMP-VIEW-BASED-ACM-MIB TCP-MIB UDP-MIB
CISCO-IMAGE-MIB CISCO-STACKWISE-MIB
AIRESPMACE-WIRELESS-MIB CISCO-LWAPP-IDS-MIB
CISCO-LWAPP-AP-MIB CISCO-LWAPP-CCX-RM-MIB
CISCO-LWAPP-CLIENT-ROAMING-MIB
CISCO-LWAPP-DOT11-CCX-CLIENT-DIAG-MIB
CISCO-LWAPP-DOT11-CCX-CLIENT-MIB
CISCO-LWAPP-DOT11-CLIENT-CCX-REPORTS-MIB
CISCO-LWAPP-DOT11-CLIENT-MIB CISCO-LWAPP-DOT11-MIB
CISCO-LWAPP-DOWNLOAD-MIB CISCO-LWAPP-LINKTEST-MIB
CISCO-LWAPP-MFP-MIB CISCO-LWAPP-MOBILITY-EXT-MIB
CISCO-LWAPP-QOS-MIB CISCO-LWAPP-REAP-MIB
CISCO-LWAPP-ROGUE-MIB CISCO-LWAPP-RRM-MIB
CISCO-LWAPP-SI-MIB CISCO-LWAPP-TSM-MIB
CISCO-LWAPP-WLAN-MIB CISCO-LWAPP-WLAN-SECURITY-MIB
Technical Support and Services
Cisco SMARTnet Service Cisco Smart Foundation Service Cisco SP Base Service Cisco Focused Technical Support Services
Operating temperature up to 5000 ft (1500 m)
23 F to 113 F
-5 C to +45 C
Short-term exception up to 5000 feet (1500 m)
23 F to 122 F
-5 C to 50 C
Operating temperature up to 6000 ft (1800 m)
23 F to 113 F
-5 C to +45 C
Operating temperature up to 10,000 ft (3000 m)
23 F to 104 F
-5 C to +40 C
Operating temperature up to 13,000 ft (4000m)
23 F to 95 F
-5 C to 35 C
Short-term exception up to 6,000 feet (1800 m)
23 F to 131 F
-5 C to +55 C
Short-term exception up to 10,000 feet (3000 m)
23 F to 113 F
-5 C to 45 C
Short-term exception up to 13,000 feet (4000 m)
23 F to 113 F
-5 C to +45 C
Short-term exception at sealevel with single fan failure
23 F to 113 F
-5 C to +45 C
Storage environment
-40 F to 160 F
-40 C to 70 C
Operating altitude
Up to 16,400
Up to 5000m
Storage altitude
Up to 16,400
Up to 5000m
Operating relative humidity
5% to 96% noncondensing
Model info:
WS-C3650-24PD-S
Storage relative humidity
5% to 96% noncondensing
Enclosure type
Rack-mountable - 1U
Accessory & Rack Moubt Kits
ACC-KIT-T1: Accessory kit
RACK-KIT-T1: Rack mount kit
4PT-KIT-T1:Extension rails and brackets for four-point mounting
Ports
24 x 10/100/1000 (POE+) + 2 x 10G SFP+ & 2 x 1G SFP
Stacking module & cable
C3650-STACK-KIT: Stack Module
STACK-T2-50CM: StackWise-160 stacking cable with a 0.5 m length
STACK-T2-1M: StackWise-160 stacking cable with a 1.0 m length
STACK-T2-3M: StackWise-160 stacking cable with a 3.0 m length
Maximum VLANs IDs
4,094
Compliant Standards
IEEE 802.1D Spanning Tree Protoco
IEEE 802.1p CoS Prioritization
IEEE 802.1Q VLAN
IEEE 802.1s
IEEE 802.1w
IEEE 802.1X
IEEE 802.1X-Rev
IEEE 802.11
IEEE 802.1ab (LLDP)
IEEE 802.3ad
IEEE 802.3x full duplex on 10BASE-T, 100BASE-TX, and 1000BASE-T ports
IEEE 802.3 10BASE-T
IEEE 802.3u 100BASE-TX
IEEE 802.3ab 1000BASE-T
IEEE 802.3z 1000BASE-X
RMON I and II standards
SNMP v1, v2c, and v3
Network management Interface
Ethernet management port: RJ-45 connectors, 4-pair Cat-5 UTP cabling
Management console port: RJ-45-to-DB9 cable for PC connections
Power supply
PWR-C2-640WAC
Expansion Slot(s)
power redundant slot
CPU
Multicore CPU
Width
17.5 Inches (44.5 Cm)
Available PoE Power
390W
Power Device
Power supply - redundant - plug-in module
RAM
4 G
Supported Aironet AP series
3700, 3600, 3500, 2600, 1600, 1260, 1140, 1040
Depth
17.625 Inches (44.8 Cm)
Switching Capacity
88Gbps
Weight
16 Pounds (7.26Kg)
Total number of WLANs per switch
64
Rack Mounting Kit
optional
Power Redundancy
optional
Voltage range (Auto)
100V-240V
Maximum stacking number
9
Number of AP per switch/stack
25
Number of wireless clients per switch/stack
1000
Flash Memory
2 G
Power Consumption of standalone (in Watts)
101.5 (max)
Forwarding Performance
68.45Mpps
Console ports
USB (Type-B), Ethernet (RJ-45)
Stack Bandwidth
160Gbps
FNF entries
24000
Wireless bandwidth per switch
up to 20Gbps
MTBF in hours
528,280
Height
1.73 Inches (4.4 Cm)
Теги: WS-C3650-24PD-S